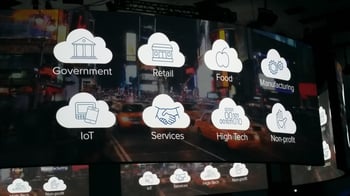 NetSuite's new release, Version 2015.2, is now available and customer accounts will be upgraded automatically over the next few months. To learn when your account is going to be upgraded, check the New Release portlet on your home dashboard. To do so, follow these steps:
Login to NetSuite

Click on "Personalize" in the upper-right-hand corner of your homepage.

Scroll through the available portlets until you find "New Release" and select that icon.
This portlet will tell you how many days you have left before your account is upgraded and also gives you the dates during which you can login to a preview environment to check the functionality of the new release and also to test any customizations you might have to confirm compatibility.
Here are some of the new capabilities you'll find in this version release:
SuiteCommerce In-Store
With NetSuite's SuiteCommerce In-Store function, floor reps in your brick-and-mortar locations can use mobile devices like tablets to place orders, access customer data, and view real-time inventory status.
Employees can expect to help customers with any questions they might have about their purchase and to go even further by viewing customer wish lists and sales histories for upsell and cross-selling purposes.
With the SuiteCommerce In-Store capabilities of Version 2015.2, you will unify your physical and digital locations with ease and no extra cost.
Advanced Procurement Dashboards
The new release gives NetSuite purchasing users an out-of-the-box dashboard to streamline the procure-to-pay process. View reminders, KPIs, reports, and searches which are already customized and tailored to your needs as a buyer. View vendor on-time delivery performance metrics and proactively manage and renew vendor contracts with expiration notifications.
With enhanced requisitions features, you can track and store vendor contracts directly within NetSuite and attach them to purchase requisitions. This means that contract-specific pricing from your vendors will automatically populate when entering items on requisition forms.
Reverse Logistics Improvements
NetSuite's new version will allow you to register warranty information and warranty claims directly within the NetSuite application. No longer will you have to rely on outside applications to track warranties on items you sell. You can even track the warranties on items sold through indirect channels by importing or manually entering serial numbers and warranty information from partners who sell your products.
Suite GL
With version 2015.1 came the Suite GL and now with version 2015.2 you can customize your books even further with Suite Segments. Apply custom GL segments anywhere in NetSuite to finely categorize reporting to match your business even more closely.
Project Accounting
Service-based businesses using NetSuite Project Accounting will have greater control over fee billing on projects. Project managers will be able to apply Recurring Fixed Fees to projects when one or more services are frequently used across projects.
With billing caps, time-based labor limits can be enforced and project managers can be notified when projects reach and exceed the time cap for a project.
NetSuite has announced they will also be simplifying resource allocation on project tasks. With a dropdown menu, project managers will be able to add project resources to tasks more simply and make more efficient use of their time in setting up projects.
Mobile Feature Advancements
Finally, NetSuite for Android and iPhone will be streamlined to send you push notifications, allow you to access saved searches and drill down to individual records, and will automatically update your time zone based on your current location.
We're looking forward to the new release. Let us know if you have any questions or would like some help testing out the new environment.