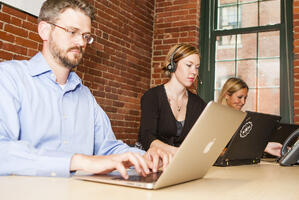 With the revolution of technology, today's buyer has changed and traditional marketing techniques no longer work. The way that people make their purchasing decisions has changed and now, more than ever, buyers want to make an educated purchase.
This means that buyers are using the internet to provide them with helpful information to make better buying decisions. In fact, research has shown that over 75% of users never scroll past the first page of search results. If your website isn't on the first page of Google, your company is missing out on potential customers.
Since the face of marketing has changed, companies need to consider new marketing strategies that better reach their target buyer. Want to learn how to make the switch to inbound marketing and better target your prospective clients? Read these five tips below to get started:
There are many facets to inbound marketing that require knowledge and expertise from a seasoned inbound marketing agency. Looking for more information? Contact Business Solution Partners today to discuss how to transform your digital marketing strategy.
Check out this slideshare deck below from HubSpot for more information!