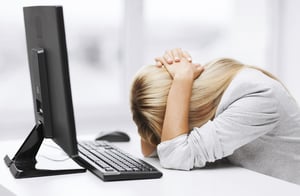 If you use Management Reporter for your financial reporting it's time for a change. While Management Reporter has been recently developed and is the replacement for FRx Replacement, it lacks the functionality needed to be a comprehensive financial reporting and budget management tool.
Financial planners and accounting professionals need a solution that will fully meet their reporting and planning needs. If you are frustrated with the lack of flexibility of this report writer, it is time to consider the Adaptive Insights corporate performance management suite. Adaptive provides flexible and visually superior financial reporting and planning.
Here are five reasons to switch from FRx Replacement and Management Reporter to Adaptive Insights:
1. Adaptive was designed as a cloud-based solution from the ground up
2. Adaptive's drag-and-drop reporting makes financial reporting easy
3. Adaptive's integrated dashboards provide self-service analysis of financial data
4. Adaptive can integrate with multiple data sources
5. Adaptive was built for the planning process
Cloud Based Solution
Adaptive Insights is a cloud-based business performance management suite designed from the ground up to be a software-as-a-service solution that provides intuitive planning, forecasting, dashboards, and reporting. Something that FRx Replacement and Management Reporter cannot deliver.
A true cloud-based platform means that there is no IT infrastructure to worry about or maintain and you have anytime, anywhere access via web or mobile devices. Adaptive is built on a technology platform with an in-memory calculation engine that provides real-time analytics.
Dynamics GP's Management Reporter doesn't have a native browser based user interface. To access Management Reporter from anywhere, the Dynamics accounting system must be provided as a hosted solution. And while the Dynamics browser based client is now available, it is not a true cloud-based solution.
Drag-and-Drop Reporting
Adaptive Insights provides easy drag and drop report building functionality so that users can create and maintain their own reporting. The data filtering capabilities of Adaptive are far superior to that of Management Reporter. Users have the ability to create dimensions and attributes that define cross sections of data for reporting purposes.
Adaptive's OfficeConnect updates data in Microsoft Office (PowerPoint, Excel, and Word) automatically so there is no last minute effort to update a reporting package with planning changes. This alone saves hours of manual effort.
Integrated Dashboards
Management Reporter is limited to report writing and report generation. Adaptive Discovery provides intuitive dashboards, balanced scorecards, and key performance indicators (KPI's) that enhances a planner's financial intelligence allowing him to better manage and monitor critical analytics.
Dashboards can easily be delivered to the appropriate users in any location and on any device providing one version of the truth with intuitive visual designs including funnel, dial, waterfall, bubble, as well as many other chart designs. Balanced scorecards and KPI's highlight variances and data trends that allow for immediate action.
Management Reporter does not provide any of this flexibility.
Integration with Multiple Data Sources
Management Reporter provides reporting on data from the Dynamics general ledger only. There is no ability to combine data from multiple data sources. So if you have data for multiple organizational entities that have different accounting systems you will either have to import the data into Dynamics as a separate company, or combine the data and create your financial reports in Excel or some other tool.
Adaptive Insights can easily combine financial data by using its accounting system connectors that integrate to the accounting system and update data automatically or by importing directly to Adaptive from an Excel file.
With the ability to import data from many different sources, Adaptive Consolidation easily creates consolidated financial reports even if multicurrency is used.
Built for the Planning Process
Adaptive Planning was specifically built to address the needs of finance and business users. It's a strategic budgeting, planning, and forecasting tool that allows scenario and what if analysis. Adaptive's flexibility includes the ability to create formulas specific to the planning process so that you can perform assumption planning. This capability is not provided by Management Reporter or the Dynamics budgeting functionality.
Since Dynamics has such limited budgeting capabilities, many firms do their budgeting outside of Dynamics and in Excel. Neither FRx Replacement or Management Reporter cannot easily report on multiple sources of data forcing financial analysts to rely on Excel for budget reporting and abandoning Management Reporter altogether.
With Adaptive's fully integrated design, the planning process is simplified with powerful reporting and visualization tools.
Make the Switch Now
If your frustrations with FRx Replacement and Management Reporter have got you thinking about alternative solutions, consider switching to Adaptive Insights. This cloud-based corporate performance management and financial planning tool provides everything financial planners and accounts need to manage, monitor, and analyze their financial data and makes financial reporting a breeze.

About the Author:
Martin Begley, Director of Management Consulting Services at Business Solution Partners is a business consultant and Certified Information Systems Auditor (CISA). He helps business owners and leadership teams define and achieve their business goals through designing and implementing performance management strategies, technology solutions, and corporate policies and procedures. You can follow him on LinkedIn at www.linkedin.com/in/martinbegley/