Did you know that the volume of business data worldwide today is estimated to double every 1.2 years?
This means that in a little over a year, your company will have twice as much data as it has now. The key issue is that enterprises everywhere need to access this data. How? By focusing on reporting because when data is turned into useful management information, companies can make quicker, data-driven decisions that improve competitive advantage and positively impact the bottom line.
But how is your business managing reporting? Are you taking full advantage of NetSuite's financial and operational reporting capabilities to deliver real-time visibility into business performance?
NetSuite has literally hundreds of useful standard reports, such as balance sheets, income statements, and variance reports, but you can up your reporting game and further enhance reporting insights by learning how to create customized financial reports to meet specific business requirements.
Remember the old days when creating customized reports or doing searches typically required an IT expert wo write SQL queries? Fortunately, with NetSuite's intelligent user interface, truly everyone, from the CFO to a customer service rep, can create their own searches or reports without writing code and requiring support from IT.
NetSuite offers extensive and flexible Search capabilities to dive deep into data by easily devising searches to generate metrics and answer critical business questions. These searches can be saved and placed as short cuts on dashboards or set in portlets. An easy-to-use report builder makes it possible to readily generate customized ad-hoc reports that can be exported to a variety of formats, including Excel or PDF. Reports can be scheduled via e-mail to go out to regularly to recipients.
But even if it is a simple process, how do you move beyond just using standard reports in NetSuite or learn how to use NetSuite's search functionality?
SuiteAnswers, NetSuite's searchable knowledge center for NetSuite customers, provides a variety of in-depth training videos, support articles, and best practices devoted to topics of Reports and Searches.
In addition, working with a NetSuite partner is an excellent option. A partner will help you determine what standard reports you are using and how you may want to modify them. They will ask what information you are trying to capture and what results you are seeking. Then, training can be tailored based on your responses. For example, a one-hour WebEx training over the phone can provide a useful overview of Searches and Reports. In a two-or three-hour WebEx training, participants can learn how to devise searches and create several customized reports.
Remember, it is worth investing in improving financial reporting because with today's higher competition among enterprises, accessing and analyzing updated data enables management to quickly address issues and benefit from new business opportunities.
---
Want to Learn More?
Check Out Below To Improve Your NetSuite Searching and Reporting Capabilities!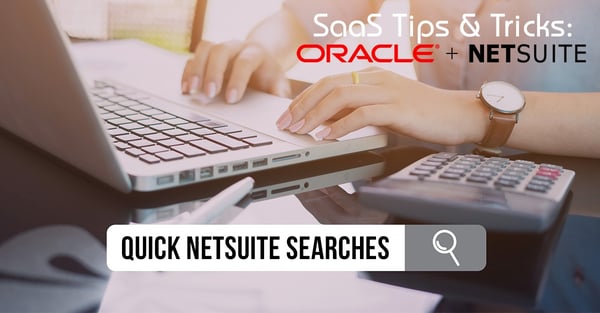 ---
---
---
---