Are you struggling to create reports that reference the right data from your Corporate Performance Management solution? Perhaps your custom queries have conflicts with General Ledger accounts, or your hand-built reports are suddenly broken because a new department was added to the system…
Report building is a critical aspect of modern finance, yet it is often sited by CFOs as the process with the most friction.
Adaptive Insights' CFO Indicator Q4 2016 cited Reporting as the #1 challenge facing modern finance teams. The report reveals that while 85% of CFOs say their teams have direct access to the financial and operational data needed to generate accurate reports, it is the non-value-added tasks - like data gathering, verifying accuracy, and formatting reports - that take time away from the strategic analysis desired by top management and other stakeholders.
So how can your company reduce the friction in the report building process and free up critical finance resources for the important work of analysis? Here are some Adaptive Insights tips and tricks to help you avoid frustrating report reconciliations.
---
1. Call Out The Following Elements In Custom Report Builds
Version

Organization Structure

Account

Time Period

Currency
It's not enough to simply pull accounts and a time period into your reporting. Taking this approach can lead to versioning errors. It's much more effective to follow these simple element guidelines to create dynamic reports that bring specific elements into your report. This will ensure the data in your reports align with expectations, and streamline the validation process.
---
2. Prioritize The Use of Level Element References over Level Dimension or Attribute References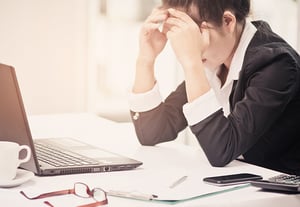 We get it… Sometimes it's easier to leverage level dimensions or level attributes for specific reporting purposes.

But this approach requires strict tag maintenance - the absence of which may cause chaos in your reporting as new levels are added and tags are not updated.

Missing data, uncategorized data and a significant time sink await an already overwhelmed finance team. Prioritizing the use of Level Element References will ensure that your reports pull in all of pertinent data, streamlining process and validation.
---
3. Use Check Figures
Want to ensure that your report data is correct? Use Check Figures - especially when using Adaptive Planning for external reporting. Here's an effective workflow to incorporate check figures into your reporting workflow:
Run a Trial Balance Report in your ERP
Copy and Paste the Data into your OfficeConnect Workbook
Identify Desired Check Figures - Net Income, Total Assets, Total Revenue, etc…
Create Check Figure at Bottom of Each OfficeConnect Tab Referring To Trial Balance Data Tab.
Navigate Through Tabs to Verify Check Figures Equal Zero
Distribute Reports
Refresh Report Book Monthly - Paste New Monthly Trial Balance Data
You can also utilize other check figures to validate that the same accounts across multiple tabs always equal the same value.
Additionally, if you utilize manual subtotals for expenses, you can pull in the total opex rollup line at the bottom of your report and do a check figure between your manual subtotals and your total opex rollup.
---
4. Pull Account Rollup Groups Into Bill of Sale and P&L Reports, Rather Than Individual Accounts
Selecting individual GL Accounts will provide verification that subtotals tie out for the current period, but the effects of this improper procedure will play out over the next several months…
As amounts hit other GL accounts, you'll suddenly be searching for thousands of dollars in missing expenses. Build your Bill of Sale and P&L reports with Account Rollup Groups to be sure you are accurately reflecting all GL activity in your reporting.
---
5. Consolidate Reporting Activity To One Individual Or Small Team
How do you eliminate the cost of human error and inaccurate data in your reporting? Limit the number of hands in the cookie jar.
Accountability is key - establish a point person or small team to be responsible for the organization's entire reporting package. Avoid allowing multiple users to create individual reports for later compilation. If will be difficult to ensure that all reports reference the same source of data truth.
Further, its a best practice for reports to be delivered in a locked down workbook, so other team members can't manipulate validated data.