We're entering uncertain times. The Covid-19 Pandemic is but one of the major factors influencing the bearish market turn, including trade wars, the plunging price of oil and the upcoming US Presidential Election. It is difficult at this time to decipher how the Federal Reserve, the marketplace, and global governments will react, raising fiscal planning and forecasting to an ever more vital role for the modern finance executive.
Have you ever heard the term "VUCA?" This moment encapsulates the concept - Volatility, Uncertainty, Complexity and Ambiguity. The current economic climate in the US is the perfect storm of these four harbingers of change. Chances are, your business is experiencing all four of these factors - and it's likely the first time that these four challenges are converging simultaneously to disrupt the day-to-day operations of your company.
Can you ensure continued cash-flow in these uncertain times? Can you run planning scenarios to help your organization make better business decisions? Can you be proactive, instead of reactive, even when daily disruptions are clouding the decision making process?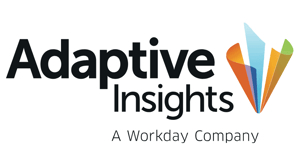 One way to ensure that your organization is making the best possible decisions during times of uncertainty is through the use of Adaptive Insights Scenarios for Planning.
Adaptive Insights enables your company to achieve complete fiscal transparency, and the ability to model changes in near-real time.
By pulling on the financial levers of influence in a modeling environment, you can determine the impact that the current market fluctuations are having on your bottom line, and perform What-If Scenarios to solve for your finance challenges. A SaaS application, Adaptive Insights connects your finance team from home, the office or abroad.
We here at Business Solution Partners think that all companies should be leveraging the Adaptive Insights platform for better planning, budgeting and forecasting. But the value of the platform becomes even more evident today, in a climate of uncertainty.
This is not a message about fearing uncertainty. This is a message of fiscal responsibility and preparedness - for today, tomorrow, and the future.
If you would like to understand how Business Solution Partners can help your finance team make better informed decisions to weather a bear market, please contact our Adaptive Insights Account Executive Rich DiPalma.
Rich will detail how your company can make a rapid transition to Adaptive Insights, and have the right real-time data at your disposal for the tough fiscal and operational decisions that lie ahead.