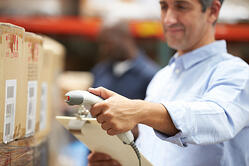 If you use NetSuite to manage your sales online, over the phone, or both, you'll likely need to manage how inventory travels from your warehouse/location to the customer.

NetSuite offers an extremely diverse and capable shipping and receiving module

to help you offer your customers various shipping methods with flat rates or constantly updating shipping rates from the carrier itself.


The first step to configuring shipping in NetSuite is to enable features which will allow your fulfillment team to easily mimic their fulfillment processes in the NetSuite workflow. This can be done at the Enable Features page at Setup>Company>Enable Features.

The Transactions tab provides you with a section of features dedicates solely to Shipping & Receiving:

Advanced Shipping: Select this tab if you want to keep separate records for each stage in the fulfillment and billing process i.e. Item Fulfillments and cash sales/invoices.

Pick, Pack and Ship: If you have separate stages for picking, packing, shipping your inventory items prior to billing, then enable this feature. NetSuite will allow your warehouse employees to track inventory through various stages and mark orders picked and packed prior to sending them out the door.

Shipping Label Integration: Enable this feature means you can actually print your FedEx, UPS, and USPS labels right from NetSuite with an integration to your shipping accounts. Using thermal label printers or regular paper printers, you can now get the whole process done right from your NetSuite account.

Multiple Shipping Routes: If you're a distributor whose customers want the items on their orders shipped to different locations, this feature allows you to do that. This feature even allows you to use different shipping methods per line item.

Once you've chosen how complex you want your shipping options to be in NetSuite, you can start connecting your NetSuite account to your FedEx, UPS, and USPS shipping accounts at Setup>Accounting>Shipping. At this page, you can set defaults and preference for shipping too.

Take note of the Packages tab as well. If you repeatedly use the same size containers for shipping and want to fulfill items based on weight and size, you can create your default package preferences and then assign these packages to individual inventory items.

Setting up the Shipping Items is your next step and it's where you'll set rates for shipping and handling as well as rules and locational restrictions. Navigate to Lists>Accounting>Shipping Items to view existing shipping options or create new ones.

On the Shipping Item setup page, NetSuite gives you the choice of how you want to calculate your shipping. Each item can only have one option selected, but you can setup multiple shipping items to accommodate your and your customers' needs.

Real-Time Rate: This option is only available if you have created your shipping account at Setup>Accounting>Shipping, as I mentioned earlier. With this option, NetSuite will pull the rate directly from the shipping carrier based on ship to and ship from addresses.

Flat Rate: Charge a flat rate to every customer who uses this ship method.

By Weight: Charge a flat rate per pound, ounce, gram, or kilogram.

By Item: If you choose this option, specify the item shipping rate on the item card. Also specify a default shipping charge in case an item does not have a shipping charge specified.

Percent of total: Charge shipping based on the order total

Shipping Table: Choosing this option opens a new set of options right beneath. You can choose a range and how much to charge for shipping based on those ranges of order total and weight.

After setting your rates, scroll through the remaining tabs to indicate which account you'd like to use if you're using integrated shipping labels (described above,) if you have any free shipping options, and if you want to offer this option to all countries or restrict it based on shipping location.

Finally, you can choose whether certain of your inventory items provide free shipping so orders ship free when those items are included.

Once you're satisfied with your shipping item, save it and create new shipping items for each shipping option you want to offer your customers. Test out their functionality by creating a new sales order and choosing the shipping option or by heading to the checkout screen of your NetSuite web store. If you've set up the shipping item correctly, your shipping should be calculated based on a flat rate, order total, order weight or shipping location.