You've implemented NetSuite to gain all the benefits of a cloud-based ERP platform—and there are many. But what if you need additional functionality? There it is, the "I" word, Integrations. Many IT leaders dread the idea of integrations, and for good reason. Traditionally, integrating an ERP platform with other business applications has invited a whole host of complications.
The good news with NetSuite is that should your organization need to extend NetSuite's native functionality, there are currently more than 500 third-party applications called SuiteApps that are readily available at suiteapp.com. Each SuiteApp has had to go through rigorous development and verification processes to ensure performance and reliability when integrated with NetSuite.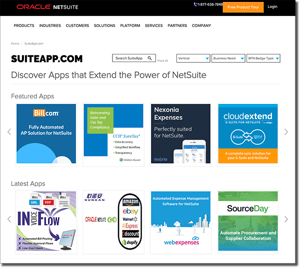 With so many choices, there is a very good chance your particular business requirement will be addressed. For example, if you need additional customer relationship management capabilities, there are 37 different SuiteApp choices listed.
If you want to extend e-commerce functionality, there are 156 options (as of the time of this writing - more SuiteApps are being added every day!). Generally speaking, SuiteApps are designed to work within NetSuite, leveraging NetSuite's platform, and your data, to do better business.
But apps "built for NetSuite" are not the only listings at SuiteApp.com. Pre-Built integrations are also available to connect your systems to SaaS outside of the NetSuite platform. For example, our friends at Nolan Business Solutions built an integration to connect NetSuite with Onetrail.net, an Electronic Supply Chain Platform built specifically for IT resellers.
The pre-built integrations in the marketplace tend to solve for Platform-to-Platform connections and are pre-configured with standardized functionality intended to achieve a set list of demands.
However, there are times when it may make better business sense to spend the time and money to create a custom NetSuite integration. Here are some potential scenarios where this is the case:
When you have a hybrid cloud/on premise environment where you need to integrate NetSuite with an on-premises application.
When you have a home-grown application developed in-house that you need to integrate with NetSuite.
When you need to migrate data into NetSuite from a legacy application and must ensure the data gets mapped correctly.
When you've assessed and/or tried to leverage pre-built solutions that don't include specific functionality critical to your business needs.
In all of these circumstances, your best chance of good results is to work with a partner who has extensive experience creating custom NetSuite integrations to meet your exact needs. In addition to experience with the NetSuite platform, you should look for an integration partner that also has a relationship to the software you're connecting to (or at least significant experience building integration to competitive software in the same space).
Business Solution Partners' sister company, SuiteDevelopers, has created seven native NetSuite Integrations that work out-of-the-box, connecting NetSuite users to vital SaaS business applications. These include:
SDC Quickconnect: NetSuite <-> Quickbooks Integration
SDC ZLink: NetSuite <-> Amazon Integration
SDC MiCommerce: NetSuite <-> Miva Integration
SDC Magnet: NetSuite <-> Magento Integration
SDC SuiteSpot: NetSuite <-> HubSpot Integration
SDC Coupler: NetSuite <-> Coupa Integration
SDC Forcefield: NetSuite <-> Salesforce Integration
Almost all of these Out-Of-The-Box solutions were built by Business Solution Partners to satisfy the custom integration needs of a particular client, before evolving into a solution for a wider audience through the efforts of the SuiteDevelopers team.
... And because these integrations were built to solve complex business requirements that other integrations available on the marketplace did not address, SuiteDevelopers integrations tend to be more robust, customizable and complex - allowing users to take full advantage of data synching, workflow triggering and cross-object reporting, to name just a few benefits.
---
Click here to check out our sister company - SuiteDevelopers.com - to explore their growing list of integrations and Built for NetSuite applications like Text From Netsuite, Mass Delete Utility, Google Product Feed and more...

Or - Click here to learn more about how Business Solution Partners can help your create custom integrations to extend the power of your NetSuite ERP platform.