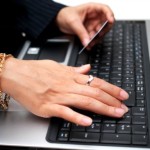 Distribution companies today are increasingly adopting a new way of selling: e-commerce. By using an e-commerce order management system, a distribution company allows customers more access and control and allows itself to reap the benefits of a burgeoning online marketplace.
Customers in the B2B and B2C realms are more tech-savvy than ever. Purchasing agents from the individual to the multi-national corporate level are logging into e-commerce web stores and customer portals to purchase their goods and services. It's easier and faster than ever before.
Once customers register with your website and get used to the navigation, their likelihood of finding and purchasing from another supplier decreases drastically. They now have a familiar and trusted place to buy, just like a local store. Allowing your customers to login and place their own orders and track transaction activity inspires confidence and loyalty and will help to keep their business in the long term.
A good e-commerce order management system will improve visibility for sales reps. The real time inventory and sales reporting benefits sales staff who can intelligently communicate with and sell to new and existing customers. Visibility is also improved on the customer's side. Allowing customers to order online will also give them reliable visibility into the lifecycle of their orders.
To really take advantage of a good e-commerce order management system, it's important to integrate it with your back office applications. Web orders should be automatically imported to your ERP system for processing, fulfillment and billing. Reports and other tasks can then be driven from the data imported. Customer relationship information can be effectively tracked to both improve customer relationships and maintain an accurate database for customer communication and marketing activities.
Integrating your e-commerce order management system with your ERP, CRM and inventory systems on the same database is the best way to maintain accurate data and reports. It provides your business management team with the visibility needed to run a profitable business and allows your business to expand globally at the same time. Cloud systems like NetSuite provide this ability and are also scalable to grow with your company. Additionally, when your systems are managed in the cloud you no longer have the high IT costs and overhead. Your system is upgraded automatically whenever there is a new release and it's during off-hours so your business is not interrupted.
Customers who login to your web store will benefit from this security and continuity. Their orders will be easily and quickly fulfilled and support is easily managed by your sales and support team all from the same window. Your customers can also be notified at each stage of the order process. For example, when the order is received by your system, when it's fulfilled and shipped and even when it's billed. Increased visibility for you and the customer will translate to growing customer loyalty and return business.
If your business has not yet entered the realm of e-commerce order management, start investigating. The need for a web store buying option is really no longer optional for many businesses. Customers who frequently use services like Amazon in their daily lives are growing to expect the same when purchasing for the office. Of course, we understand if you're not sure where to start. If you need help, give us a call and we can give you a no-obligation assessment of where you are and where you'll want to be in the future.