Need To Add Functionality to NetSuite?
We Have You Covered With Perfect Partner Pairings...
As a NetSuite customer, you already benefit from this feature-full, cloud-based ERP solution that makes your business more efficient. But even the most comprehensive platform can't address every business requirement for every customer.
If you have a growing mid-sized company, and are engaging in more complex business operations - for example adding a new international subsidiary; or revamping your supply chain - you may be growing nervous. It's hard not to think "As we expand, expensive customizations to our business software will be our only option to achive scalabilty."
But Don't Fret!
Extending the capabilities of your core NetSuite deployment does not have to be a complicated, customized process.
Chances are, other businesses in your industry have faced similar challenges, and many NetSuite Partners (including us) have customized solutions to solve for the need.
---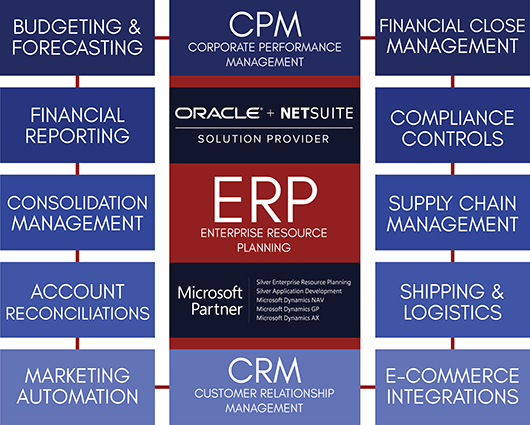 The Core ERP System Supported By Add-Ons & Integrations
---
Understanding the demand solutions with more permanance, software developers have created apps and integrations specficially designed to work within NetSuite, or to seamlessly integrate with NetSuite.
Here are just some of the solutions that we recommend to our NetSuite clients when they need to solve the issues of a growing business - beyond the native functionality of their NetSuite ERP:
---
Business Need: Streamlined Financial Close
NetSuite Limitation: Financial Data Validation
NetSuite automates numerous accounting processes, but it wasn't created to manage everything—especially when it comes to the financial close. NetSuite is good at verifying complicated transactional data, but it was not built to validate that data. Valid data is essential to a streamlined financial close.
Partner Solution: BlackLine - Financial Close Data Connector
BlackLine's Financial Close Data Connector solution can meet the needs of businesses with even the most complex finance and accounting requirements. The BlackLine Financial Close Data Connector integrates seamlessly with NetSuite and automates critical accounting processes, including ledger and subledger close, financial consolidation, and reconciliation.
It is easy to import data from NetSuite to BlackLine, where up to 70 percent of accounts can be auto-certified since thousands of transactions can be matched in just minutes. Users benefit because there is more visibility into key financial processes, the processes are more efficient, and there are fewer risks with controls enforcement.

---
Business Need: Treasury Management
NetSuite Limitation: Risk Management
With NetSuite's out-of-the-box configuration, finance team members may have to log into multiple banking portals and consolidate information from several sources to get an accurate reconciliation of cash flows. This can be time consuming, error prone, and prevent opportunities to identify and mitigate fraud.
Partner Solution: Kyriba's Cloud Treasury for NetSuite
As a leader in global treasury solutions in the cloud, Kyriba's Cloud Treasury for NetSuite enables users to manage treasury and cash with automation, accuracy, and quick visibility into cash, financial positions, and exposures. This provides executive leaders with the information to achieve meaningful liquidity and cash insights. The solution automates bank connectivity to provide clear cash visibility and automates recurring payments, among many other features.
By signing on through NetSuite and using Kyriba to synchronize efforts, you eliminate the need to login to multiple banking portals to process payments. As a result of improved payment workflow controls, standardization and synergistic efforts, customers can quickly identify and mitigate opportunities for fraud.

---
Business Need: Sales Tax Automation
NetSuite Limitation: Automation
The bottom line when it comes to scalable tax compliance is automation. If your company is processing a large volume of taxable transactions, it's imperative that you look towards extending the functionality of your NetSuite ERP with Tax Automation systems.
Partner Solution: Avalara's AvaTax for NetSuite
Every day businesses facing complex sales tax requirements can benefit from AvaTax for NetSuite, which automates and manages the entire sales and use tax processes end-too-end.
Built to automatically run in NetSuite, the solution includes modern geolocation technology, so users are freed from having to research rates and tax jurisdictions. This makes it much easier to file and remit taxes on time. Returns are fully integrated, so it is not difficult to review a single combined liability worksheet and then file returns in all jurisdictions.


---
As a NetSuite Develppment Partner for over 16 years, Business Solution Partners has vetted many of these software platforms, apps and integrations. We have strong relationships with the companies that make them, and deep expertise with the software that makes them tick... And we come from a place of knowledge, because we create out-of-the-box integrations for the NetSuite community too!
It's a win-win for our mutual customers and the growing Oracle + NetSuite community.