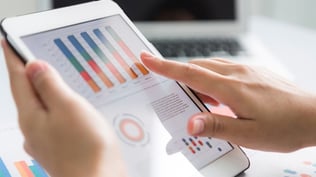 Properly applying customer payments to open Accounts Receivable is an important part of properly maintaining an accurate Accounts Receivable register. It's a lucky coincidence for companies using NetSuite that NetSuite has made it so simple to login and apply customer payments.
Here's a brief rundown to read over your morning coffee.
After you've generated and sent customer invoices, you'll hopefully receive checks from your customers paying those invoices. When you get that check in the mail and you're looking at the stub for payment details, put it aside and login to NetSuite.
First go to the "Accept Customer Payments" window. This can be found at Transactions>Customers>Accept Customer Payments.

In the empty Customer field, choose the customer which sent you the check.

Automatically, the open invoices for that customer will appear towards the bottom of your screen under the "Apply" tab. The payment amount will read 0.00 until you start checking off invoices which are paid.



Next fill out the header information of the payment.

The Payment # field will automatically populate with the next open number based on your preferences set at Setup>Company>Auto-Generated Numbers.

Choose the appropriate Accounts Receivable account at "A/R Account"

You will have the option to deposit this check directly into your bank account or to file it in NetSuite's Undeposited Funds account until you take all your checks to the bank and can then move the funds from Undeposited Funds into your bank account separately using NetSuite's "Make Deposits" feature.

Please keep in mind that these are only record keeping activities in NetSuite. Your bank balance will not change as a result of performing these routines.

Select the date of the payment, the posting period, and any memo you might want to add for record keeping.



Start applying your check to open invoices.

If the customer is paying your invoices in full, simply check off the relevant invoices and the "Payment Amount" field will automatically populate with the correct payment information.

If the customer is partially paying your invoice or taking a sales discount, use the "Disc. Taken" and "Payment" fields on each line to enter the exact amount which they are paying. If an invoice is not fully paid with this check and no sales discount is taken, it will remain open in NetSuite until it is paid in the future or you apply a credit memo to write it off.

Toggle over to the Credits subtab to apply any unapplied credit memos to this payment if necessary.

Toggle to the Deposits subtab to apply any previously recorded customer deposits to this payment.



Click on the "Payment Method" tab to record more details about this payment.

Here is where you can process a credit card transaction if the customer has provided credit card details rather than a physical check.

Please note that this will only process a live credit card transaction if you've separately configured credit card processing in your NetSuite account.

Enter the check number here to appear on reports and in the Undeposited Funds register.



Saving this payment will create the record and close out any open invoices which have been fully paid. You can view any payments for this customer right from the customer record on the Transactions subtab.

If you've saved the payment with the "Charge Credit Card" box checked, it will confirm the amount to charge before actually processing the transaction with the provider's bank. You can review any transaction details by navigating back to this record after saving.
We hope you find this helpful. If you have any details questions or would like some advice on your NetSuite AR implementation, don't hesitate to contact us.