The firearm industry has reached an inflection point, devoting significant resources to the modernization of its supply chain and internal operations. Manufacturers and distributors, specifically, are investing in ERP and WMS platforms that integrate their operational, financial and regulatory needs. The impacts to those who've already converted include better inventory control, increased efficiencies, better insight for decision making and repeatable FFL / ATF compliance.
Overview
ERP software providers have been slow to respond, with the exception of a few leading platforms such as that offered by cloud-based provider, NetSuite. Under the guidance and integration services of Orchid LLC and New York based ERP experts at Business Solution Partners (BSP), the three companies have designed a firearm industry specific solution to tackle the needs of regulated manufacturing FFLs.
Over ten years of research and firearm industry experience has allowed these organizations to understand the top requirements of ERP seeking firearm manufacturers.

Serialization Is the Beginning
Firearm ERP begins with inherent serialization control and needs to reside at these levels: Item Master, Bill of Materials (BOM) and Transactions.

FFL Compliance Requires Custom Solutions
FFL Compliance is broader than out-of-the box ERP serial number capability. Serialization alone provides the basis for being able to control serialized firearms, but actual compliance is achieved through expert-level controls designed into inventory transactions such as at the point of receipt and scrap.
Significant Efficiency and Reporting Gains Can be Achieved
A well-designed firearm ERP can yield tremendous efficiency gains throughout your business through the following means:
Eliminating dual entry of serial numbers by integrating the ERP to an electronic bound book.

Eliminating shop floor labor by integrating the ERP and eBound Book with laser marking devices.

1d and 2d barcode can significantly reduce labor time tracking and entering data.

An integrated ERP/eBound creates a single source of truth and eliminates countless labor hours spent tracking and reconciling potentially misplaced inventory (or false positives).


Case-in-Point: Understanding the Layers Below
Out-of-the Box ERP Serialization
It sounds simple enough on the surface; but dig down into the actual requirements to receive and maintain FFL certification, and you'll find a set of extremely specific steps that all participants in the industry must consider throughout the entire product lifecycle.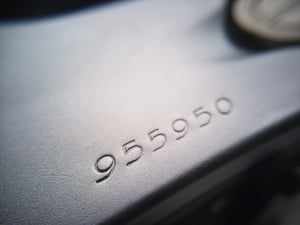 In the past, compliance relied on miles long paper trails and entire in-house teams dedicated to ensuring manufacturers and distributors stayed on the right side of the law. As the industry matured, and technologies advanced, innovations in digital record keeping, laser engraving, lot traceability and more started to ease the manual burden to business.
Adoption of these new systems was historically slow for the vertical however, as investments in hardware, software and the expertise to deploy tech forward solutions were significant time and capital sinks.
In addition to the investment hurdle, another standout deterrent was the fact that all of these technological advances were occurring in a bubble – solving only for one, or a set of specific compliance needs. Implementing these solutions in one area of the business often resulted in increasing complexity and process breakdowns in other sectors.
While advances in individual areas of compliance moved forward, there was little effort to solve for the needs of the industry as a whole. All that changed when Orchid Advisors entered the game, with a top-down vision of the compliance needs of firearm manufacturers and distributors.
Orchid eBound is an ATF 2016-1 compliant electronic acquisition and disposition book designed by industry professionals. This software facilitates the compliance needs surrounding the manufacture, distribution, and sales of GCA and NFA firearms to consumers.
Now, Orchid Advisors is continuing its commitment to making it easier for their customers to do business by working alongside Business Solution Partners - ensuring that their tech forward solutions "play well in the sandbox" with modern business management platforms like NetSuite.
Manufacturing FFL ERP Solutions Exist
Due to the years of experience with manufacturing FFLs and ERP, some vendors have taken the time to transform the custom firearm manufacturing software needs into turnkey solutions for the industry. Citing the example from the Orchid-BSP-NetSuite team, a turnkey solution now exists that addresses:
Item and BOM-level serialization

Customized item, vendor and customer masters including required eBound Book data elements

Receipt of SN against vendor / subcontractor SN manifests, including imports

Serialization-level controls including SN libraries and duplication control

SN vs count-level requirements at the point of receipt and shipment

SN to production order assignment and assumption of lower-level SN through assembly

ATF-required codification of Theft / Loss, Found and Destroyed firearms (scrap)
Together, Orchid and BSP have created an end to end business management/compliance solution specifically customized to the needs of firearms manufacturers and distributors. The solution consists of the #1 Cloud Based Business Management Software, NetSuite ERP, seamlessly connected to Orchid's eBound acquisition and disposition book.
NetSuite is a holistic business management suite that brings all mission critical activity together under one roof and provides a single source of truth for inventory management, traceability, logistics, manufacturing process and finance. Everything from sales to procurement (including lot/serial tracking), manufacturing to shipping, is tied back into financials.
It's all automated, and it's all connected – no more manual double entry or error prone imports / exports. This cuts down on miscommunication between employees and sets you up for long term growth and scale.
Want to learn more about FFL Suite? Click here for more information about the industry's first truly turnkey ERP solution for Firearms Manufacturers, Distributors and Retailers.
Message us today to learn how companies in the firearms industry are taking advantage of this solution to grow their business and stay compliant.