The primary objective of Medical Device labeling is to ensure that patients in need, and practitioners providing care, can access clear, accurate and understandable instructions for use. But medical device labels serve many other important purposes, and as such, are closely regulated by the FDA.
Today, medical device manufacturers continually strain resources in pursuit of FDA Label Requirement compliance. They are feeling the pressure and taking a more comprehensive look at managing complex labeling needs.
Medical Device Manufacturers are well aware of the minimum regulations for labeling devices under FDA 21 CFR 801, which include clearly and effectively communicating such information as intended use, adequate directions, and proper branding.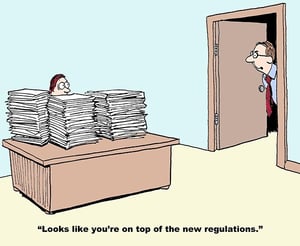 But with ever expanding regulatory needs and a scaling workforce, what is the ideal way to ensure that your product labels are not a lurking liability?
The best way to manage label compliance is to find a flexible ERP that can be customized for your unique labeling needs, with integrated processes to include production and compliance data on device labels.
There is one Enterprise Resource Planning (ERP) System that answers the call for medical device manufacturers seeking solutions for all of the applicable FDA labeling rules - NetSuite.
It's no surprise that ERP systems are widely used by Medical Device Manufacturers. Most med dev organizations are leveraging ERP to manage inventory, the production process, sales and distribution.
But an often overlooked, and underutilized functionality of NetSuite's solution is its ability to simplify, manage and deploy regulatory compliance demands into the production process. One specific area of regulatory interest to medical device manufacturers is NetSuite's Labeling solution.
Manufacturers are discovering that NetSuite is a powerful solution for meeting the strict FDA regulations for labeling which include, but are not limited to; business name, location, unique device identification (UDI), intended use, adequate directions, branding, text that is visible and clear, and more...
---
This Fictitious Medical Device Product Label Displays The Complexities of
FDA Requirements Under 21 CFR 810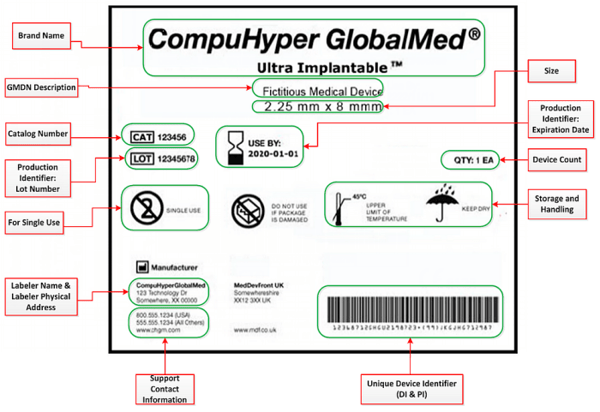 ---
UDI Compliance
One important facet of NetSuite's labeling solution is in meeting the challenge of UDI Compliance. UDI requires not only device identifiers and production identifiers, but thirteen additional pieces of information.
This data not only has to be incorporated into the label design, but must be arranged clearly, and be of a font and weight sufficient that the average person could read the content comfortably. NetSuite enables enterprise labeling management, and with just a bit of customization, ensures UDI compliance.
Software Validation
When manufacturers submit products to the FDA's GUDID Database, they are required to prove that software, systems and processes are validated. NetSuite's cloud-based software has been designed to adhere to the validation process. Additionally, there are SuiteApps developed to assist in the validation process. NetSuite provides data validation and additional reporting that is critical to compliance.
Traceability
Traceability is another major factor in meeting the FDA's labeling requirements. NetSuite's Lot Traceability SuiteApp is the perfect add-on for Medical Device Manufacturers to manage traceability. It ensures that Lot Trace information is available for, and utilized in the labeling process.
Communicating Compliance
NetSuite can deploy quality, labeling and regulatory processes to the workflows of those employees responsible for compliance. And in an ever-changing regulatory environment, NetSuite makes it easy to update compliance procedures and roll them out to your teams.
---
Creating an efficient labeling operation can generate significant savings for medical device manufacturers. Proper labeling is critical to not only compliance but is vital to traceability in the case of an audit, recall or product defect.
The ability to easily report on compliance, and ensure that compliance and quality processes are adhered to on the manufacturing floor, makes NetSuite a natural choice for Medical Device Manufacturers solving for a wide variety of business needs.
As a bonus, NetSuite aids in all your medical device manufacturing needs by increasing the transparency of data across departments, injecting quality management procedures into the production process, connecting the supply chain to demand planning, consolidating financial data, and so much more…
NetSuite consolidates your major business software systems into a Unified Business Management Platform:
Enterprise Resource Planning

Financials

Customer Relationship Management

E-Commerce
---
Overcome the challenges your business is facing with labeling. Combine the power of NetSuite, with the specialized experience of Business Solution Partners in the Medical Device Manufacturing vertical, and you've got a recipe for success.
Want to move your business forward by empowering your people with the right software, processes and training to achieve success? Contact us today for a conversation about how NetSuite can transform your scaling business for the future.