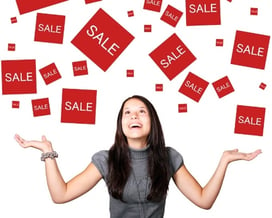 NetSuite promotions allow businesses to give their customers special promo codes and receive discounts on what they buy. Promotion codes can be used on web stores, in brick-and-mortar retail stores and can also be used by in-house sales staff manually entering sales orders. The aim of this article is to give you a little insight into how NetSuite promotions work and what you can do to start easily configuring some promotions of your own.
The first thing to keep in mind when creating a promotion in NetSuite is that every promotion will need a unique code, like a word, phrase, or set of characters. This code will have to be entered on the order to unlock the special discount. Once you have a code in mind, start jotting down the rules each order will have to meet in order for the code to be eligible and valid. These rules will come in handy in visualizing how you'll set up the promotion in NetSuite.
For example, I'd like my web store customers to get a 10% discount when they buy $100 worth of inventory on my web store. They can buy any items they want and be eligible for the discount as long as they purchase at least $100 at checkout.
To get started setting this up in NetSuite, first I'll login to NetSuite and navigate to Lists>Marketing>Promotions.
**If you don't see this in your navigation, you may not have the Promotion Codes feature enabled in your account. Ask your NetSuite administrator to enable this feature at Setup>Company>Enable Features.
Once at the new promotion screen, enter a name for your promotion. You can name your promotion anything that helps you to remember the rules of this promotion.
Next enter a start date and end date if you'd like this promotion to be eligible for use only during a set period of time. For example, if this is a holiday promotion code, set the start and end dates to coincide with the days leading up to and following the holiday.
Choose a "Discount" from the dropdown field. This is the discount item that will appear on sales orders once the code is entered. If you don't already have a discount item created, you can do so now at Lists>Accounting>Items>New. This item can be shared across many different promotion codes so you can set up one generic discount item and use it repeatedly.
The Rate field will be the percentage or flat amount removed from the order once an eligible promotion code is entered on an order. In my example, I'm entering 10% in the Rate field.
I will apply this discount to all sales so one customer can use the same code as many times as they want as long as they buy at least $100 for each order. I will not apply a free shipping method because I will not be providing free shipping with this promotion. However, if you were to offer free shipping, this field would allow you to choose one of the already existing shipping methods in your NetSuite account.

Next I'll enter a Coupon Code. My Code will be "BUY100" and will allow multiple uses of this code.
On the Minimum Order Amount tab, I'll enter the minimum dollar amount the order will have to meet for the promotion code to apply. In my example, I'm setting the minimum order amount to be 100 USD. You can also set the amounts for other currencies if you have them enabled and set up in your account.
Since my promotion code applies to any item purchase, I will not have to set any items on the Items subtab. If I wanted to restrict the promotion to certain items in my web store, I would manually add the applicable items to that tab.

Once you're satisfied with the settings on your promotion, you can save and start testing your promotion code. I usually like to test in the web store (if you don't have a web store, test it out at Transactions>Sales>Enter Sales Orders.

Want help or need advice with your upgrade? Contact us today for a no-obligation consultation on how we can help your business benefit from NetSuite!