Author: Michelle Cronolly
What is the New York NetSuite User Group?
The New York NetSuite User Group provides NetSuite users a forum to shar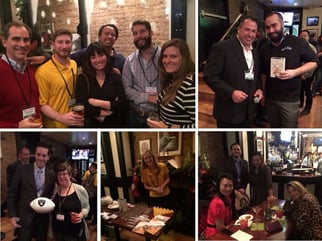 e knowledge, best practices, and technical solutions as it pertains to the NetSuite products and surrounding technologies in order that
members can utilize technology to improve their business.
This group is intended for users of NetSuite products that are located in the Tri-State area. In addition to hosting quarterly User Group Events, we also offer complimentary happy hours, as well as virtual training seminars.
Four Reasons Why You Should Attend the New York NetSuite User Group
Gain Valuable NetSuite Tips & Tricks and Best Practices to Enhance your Skill Set

Every New York NetSuite User Group includes a valuable NetSuite Tips & Tricks presentation that will add to your skillset; which will give you a greater understanding of how NetSuite can help, and how you can further support your company with your newfound knowledge, and become an office hero.
Learn What's Working for Other Businesses

The NetSuite User groups allow attendees to see how NetSuite is being used in other companies, as everyone uses NetSuite differently. Attendees will learn new best practices and strategies that they can bring back to their own companies to promote greater results.
Guest Speakers from NetSuite

Learn about new and upcoming features in NetSuite, and new solutions that may help solve some of your problems directly from NetSuite Employees. Find out what new features are coming to NetSuite before your co-workers or competitors, and how you can utilize them to be one step ahead of the game.
Network & Mingle with Professionals & Peers

Everyone one of our events allows for unrestricted time to network and mingle with other Netsuite users both within and outside your industry over complimentary food and drinks. The user groups even dedicate a special hour where attendees break into groups dependent upon their industry where they educate and learn from other users.
Sign Up For The Next Event

A Big Thanks to Our Past & Current Sponsors